The Texas Justice Court Training Center educates thousands of justices of the peace, constables, court personnel, and others every year. With that many people, it can be difficult to pair a name with a face! We would love it if you would upload a photo of yourself to the new database. Instructions are below.
---
How to Add a Photo
Step 1:
Go to https://enroll.tjctc.org/
Step 2:
In the upper right corner, you will see the Login option. Click on this and choose the Student Login option.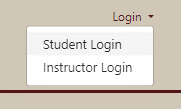 Step 3:
Choose "My Files" on the left-hand menu. Upload a great picture of yourself!
The maximum allowed file size for uploads is 10240 KB.